...JUST ANOTHER INTERMISSION
[UPDATE: I'm a Centrist who left out his Poll Result for this post. Social-35% Permissive, Economic-43% permissive.]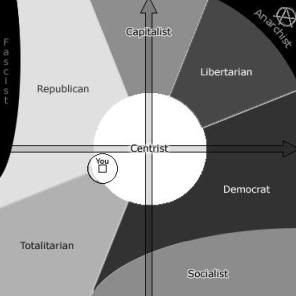 I've been away, just doing some stuff and coming online a few times, finally deciding to play around a little bit with today's two posts and go a bit casual; taking an intermission, obviously. Anyway, for those who may not believe that I am really a moderate individual, just check out my results at OKCupid's Political Test. Did I do well?

I guess some of us will be coming to a point of no return with this blog after my next entry.

If you want to have an idea of where I might be going with this, to those of you who just found this place and want to know what I'm about, check out the last non-official post at 9:05PM (October 13, 2005) in the comments section of the STOP essay. I'm considering my next major post, which isn't going to be up for a good while as my "Final" in the sense that I could stop blogging after that and be satisfied with the time that I've spent here, graduating myself into whatever comes next, so to speak. My resources are very limited at the moment and I need to get on top of some things which are demanding more attention right now.

Basically, if you've been reading my posts, you know where I may be going on this little Blog. I expect everyone to have a sense of what I'm going to say on FORWARD next. And probably for some months to come, if there is a coming back at all. This is not a threat, be assured. Its funny that someone may consider it that way =) And this isn't a promise that I'll be the best guide for the rest (not to say that I ever was) of the journey, wherever that leads you. We're all students, so just think of this as one trying to help another out. That's what a good individualist is supposed to do, to touch upon a pretty familiar political philosophy here. There will be more ground to cover, whatever happens next. As Maximus might say, duty and honor.

I go where God leads me, and that's all I'm gonna say at this point. Don't read more into this than I'm trying to say.
Stay tuned, amigos.